Slapen in een tent geeft je het gevoel dat je samen met Meryl Streep en Robert Redford in de film "Out of Africa" zit.
Slapen onder canvas laat je de geluiden van de Afrikaanse bush ervaren. Er is iets speciaals aan de geluiden van de bush en veel bezoekers aan Afrika die ernaar verlangen weer terug te keren naar de bush willen dat niet vanwege de natuur, de grote open ruimtes of de glinsterende nachthemel, omdat al deze zaken elders ook wel te vinden zijn. Hhet enige dat je nergens anders zo kunt vinden, is het typische geluid van de Afrikaanse bush. Je wilt dit echt ervaren en de beste manier om dat te doen is om tijdens je safari te slapen in tenten, zodat je geen dikke muren hebt die de geluiden uit de bush tegenhouden.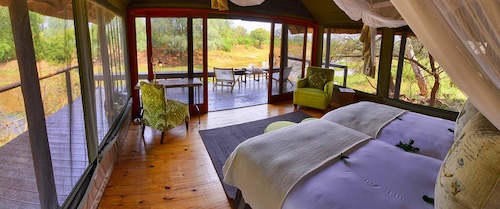 Slapen in tenten geeft je een gevoel van avontuur. Je bent op deze manier dichter bij de natuur. Al je zintuigen worden geactiveerd. Je kan de leeuwen horen brullen, de nijlpaarden of hyena's roepen alsof ze net buiten je tent rondlopen – wat ze misschien ook wel doen! Er wordt wel gezegd dat onze zintuigen en herinneringen met elkaar verweven zijn. De geur gaat naar de emotionele delen van de hersenen, terwijl woorden naar rationele delen van de hersenen gaan.
Als je op safari gaat met tenten, kun je plekken bezoeken die anders niet gemakkelijk te bereiken zijn. Je kunt onder een waterval of bij een afgelegen landingsbaan slapen. "Tented Camps" zijn mobiel, wat betekent dat ze eenvoudig en snel kunnen worden verplaatst naar een andere locatie. Ze laten ook geen spoor achter en zorgen voor een minimale CO2-voetafdruk.
Het slapen in Tenten en Veiligheid
Slapen in tenten in de bush is volkomen veilig. Wilde dieren en roofdieren komen niet in tenten, welke overigens volledig kunnen worden dichtgeritst. Ze zien de tent als een groot object en respecteren deze en lopen er omheen.
Wat je niet moet doen
Vaak zijn de tentenkampen niet omheind, dus dieren zijn vrij om door het kamp te lopen. Kruip niet 's nachts alleen uit de tent, maar waarschuw een safarigids om mee te gaan.
Tenten kunnen variëren van de meest eenvoudige canvas tentjes tot uitgebreide safaritenten in Afrikaanse stijl neergezet op een permanent houten deck met een privézwembad en een luxe die in de buurt komt van een 5-sterren lodge.
De tenten in kampen zoals Tamboti Tented Camp in het Kruger Nationale Park zijn sober. Ze zijn echter wel schoon, ruim en hebben bedden van goede kwaliteit. We hebben ook onze eigen tenten die we soms meenemen op onze safaritours, die 300 x 300 x 210 cm groot zijn met beddengoed van goede kwaliteit op goede, stabiele stretchers met matrassen, zodat je goed kunt slapen tenzij het geluid van de Afrikaanse bush de reden is dat je niet direct kunt slapen!
Slapen onder de vleugels van je vliegtuig
Als je echt ruig wilt doen, dan bieden we je op sommige plaatsen ook de mogelijkheid aan om onder je vleugels te slapen in de Afrikaanse bush. Dat hoeft niet, maar voor sommige mensen is dit het ultieme gevoel van Afrikaans avontuur.